Support for Overseas Activities of Japanese Local Governments
CLAIR Singapore provides support to Japanese local government-related personnel in their various overseas activities in the 10 ASEAN countries and India. Specifically, CLAIR Singapore introduces the appropriate organizations and individuals, provides the latest information on the country of visit, offers office equipment for short-term use, conducts research on the latest developments overseas, assists in the broadening of markets for local products and promotes tourism to Japanese local regions etc.
Promotion of Tourism & Local Products
Spreading the Charms and Attractions of Japan's Local Regions
In recent years, an increasing number of Japanese local governments have been turning their attention towards the fast-growing Asia market and are carrying out promotional activities in this region, as they look to expand their markets overseas and attract more foreign tourists to boost their local tourism. CLAIR Singapore office helps to support these activities of the Japanese local governments in the ASEAN region and India, as well as disseminate information about Japan's local regions to these countries through various channels and events.
*Reports on these events and activities can be found here. (Japanese language only)
Disseminating Tourist Information at International Travel Fairs
Through attending and participating in major international travel fairs held in the ASEAN region and India, CLAIR Singapore helps to disseminate Japan tourist information to the visitors at these travel fairs; and at the same time provide current feedback and findings of these markets to Japanese local governments, based on the information gathered through interactions and exchanges held with visitors and travel agents at these fairs.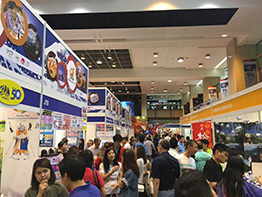 Japan Travel Fair in Singapore 2018
Japan Travel Fair in Indonesia 2018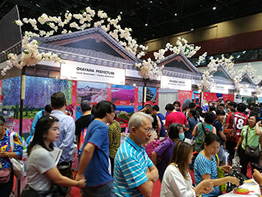 Thai International Travel Fair 2018
Conducting Japan Travel Seminars
The rise of the wealthy and middle class in ASEAN and India – owing to the region's economic growth – is expected to lead to an increase in the number of tourists to Japan from the region. In order to facilitate this, CLAIR Singapore collaborates with organizations such as the Japan National Tourism Organization (JNTO) to hold travel seminars and business-meeting sessions for travel industry players in these markets, to inform and introduce to them the travel destinations and attractions that can be found in Japan.
Organizing Japanese Local Specialty Fairs
With its steadily growing economies, ASEAN and India regions have been gaining increased attention within Japan as possible destination markets for both the export of Japanese food products as well as the overseas expansion of Japanese restaurants. In line with this, CLAIR Singapore will support the activities of Japanese local governments who are keen in expanding the overseas distribution channels for their local businesses and enterprises, through organizing Japanese local specialty fairs that will showcase a selection of Japanese local food products from across Japan in these destination markets. Japanese local governments will also be able to use such opportunities as a testing ground of their overseas marketing strategies and further contribute to the vitality of their local economies.
Research on Local Administration and Finance Systems etc. of Foreign Local Governments
Research on Local Administration and Finance Systems etc. of ASEAN Countries and India
CLAIR Singapore conducts research on the local administration and finance systems in ASEAN countries and India, and complies these information into reports. Several publications have since been issued including the comprehensively written Singapore's Administrative Policies (2011 ed and 2012 ed) as well as those that give an overview of the local administration systems of the individual ASEAN countries such as Vietnam's Local Administration System (2007 ed), India's Local Government System (2007), and Indonesia's Local Government System (2008). (All publications in Japanese only)
Contribution of Articles to CLAIR FORUM and Other Publications
CLAIR Singapore provides timely and useful information for local governments' internationalization activities by contributing articles to the monthly publication 'CLAIR FORUM' which is issued by CLAIR and distributed to all the Japanese local governments and other related organizations. (All publications in Japanese only)
Acceptance of Research Requests
CLAIR Singapore conducts research based on individual requests from Japanese local governments etc. and reports back on the findings.
Publication of CLAIR REPORT
CLAIR Singapore has other publications such as the 'CLAIR REPORT' that focuses on providing up-to-date information on a wide range of topics based on each country's local administration and finance systems and their various policies. (All publications in Japanese only)